Bigger Attic Fans, Bigger Results!
The most powerful attic fan around. The RM 2400 solar attic fan packs a punch with a total of 35 watts.
Attic Fans
Our RM 1500 attic fan is compact and yields 16 watts of power.
Interior Mount – IM 1500 attic fan
The interior mount attic fan is discrete and designed to mount inside your attic under existing vents.
Attic
TOO HOT?
Our attic fans unite advanced motor technologies with progressive designs. Our design delivers exceptional power and performance. The result is a ventilation system that efficiently vents hot air and moisture from your attic.  When your attic stays cool and dry, it gives you greater comfort in your home.  What does that mean, your home stays cooler. It also prolongs the life of your roof and air conditioner.  The best part about our attic fans is they run by the sun.  So you're saving energy and lowering your utility bills.  Plus they are whisper quiet!
Solar Powered Attic Fans.
Control heat and moisture buildup in your attic with Solar Attic Fans. Powered by the sun.  They convert your passive vents into an active ventilation system that adds comfort to your home and prevents roof damage. Best of all, they cost nothing to run.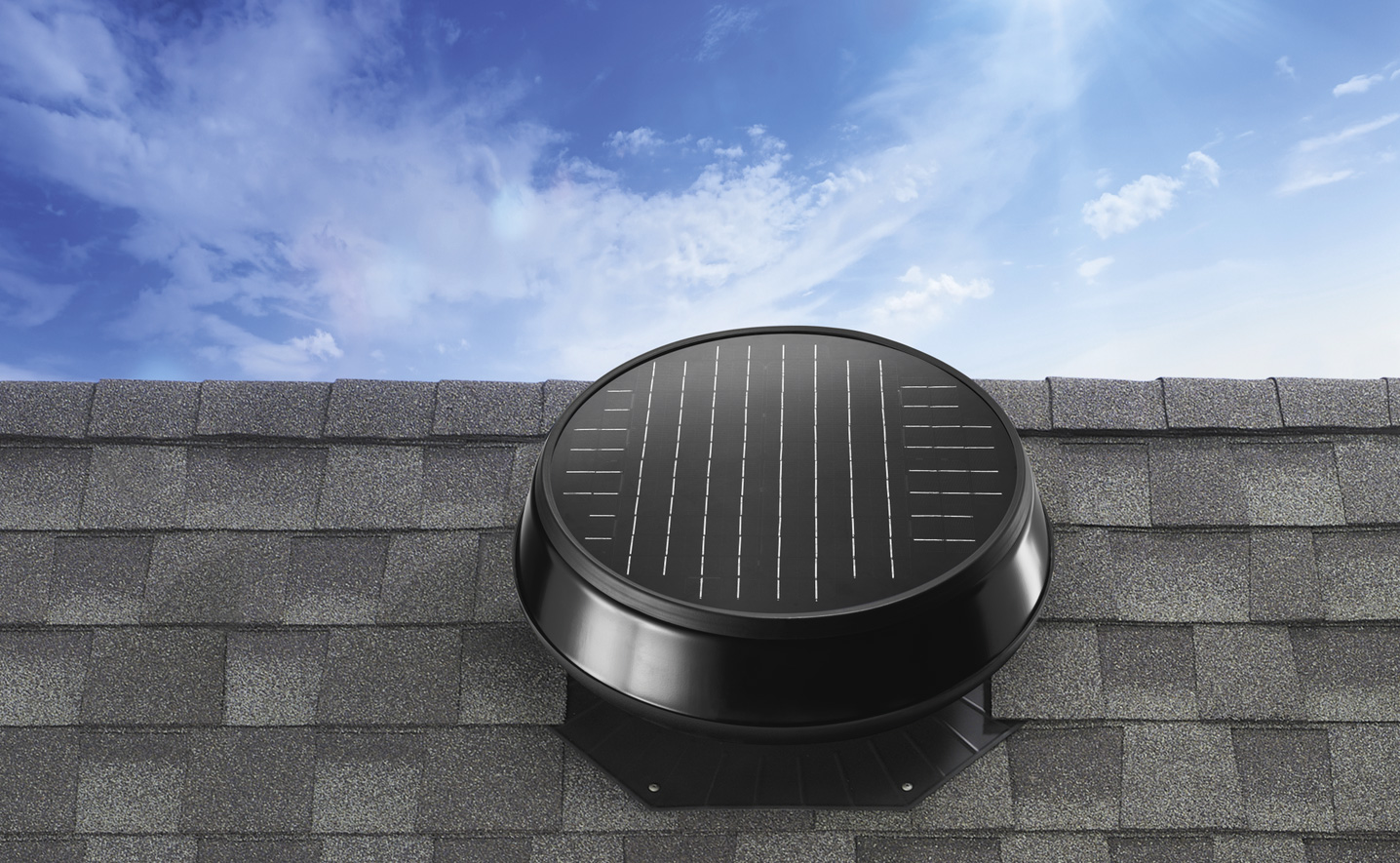 Beat the Summer Heat
Summer means longer days, more sun, and warmer temperatures. If heat isn't vented from your attic properly, it builds up and causes problems in your home:
Living spaces become hot and uncomfortable
Air conditioning units work harder to keep rooms cool
Utility costs rise due to increased energy demand
Roof structures and materials deteriorate
A Solar Star Fan solves these problems by removing excess heat, giving you a more comfortable interior and lower energy bills.
24hr price quote
Remove Attic Mold and Moisture in the Winter
With winter comes cold temperatures and moisture buildup. The excess humidity from showers, humidifiers, and dishwashers can lead to:
Leaks and structural decay triggered by ice buildup on your roof
Damage to insulation and framing materials produced by moisture accumulation
Weakening of internal structures caused by mold and fungus growth
A Solar Powered Attic Fan prevents these issues by equalizing interior and exterior temperatures, safeguarding your home from the worst of winter.
24hr price quote
35 Watt Solar Attic Fan – Roof Mount 2400
Amp up your venting power with our biggest attic fan. The Solar Star Ventilation Fan RM 2400 features a 35-watt solar panel that generates maximum energy for greater air movement.
16 Watt Solar Attic Fan – Roof Mount 1500
For smaller attics, you may not need as much power. That's where the Solar Star Ventilation Fan RM 1500 comes in. With a 16-watt solar panel, it creates just the right amount of airflow for efficient venting of heat and moisture.
Interior Mount 1500
Designed to mount inside your attic, the Solar Star Ventilation Fan IM 1500 converts passive gable, dormer, powered and whirlybird vents into an active, solar-powered venting system. The 16-watt solar panel sits discreetly on your roof to maintain your home's curb appeal.
The right profile for the right roof.
Our attractive attic fans come in multiple profiles.  The High Profile Roof Mount for locations with heavy snow loads. The Pitched Roof Mount for north-facing roofs when you need to improve exposure to the sun.
High Profile Roof Mount
This aerodynamic design is perfect for locations with heavy snow loads. Meets Florida Building Code HVHZ (FL14826) as well as Texas Department of Insurance (RV-57).
Low Profile Roof Mount
This sleek, unobtrusive design is for most pitched roof applications. Meets Florida Building Code (FL10884) and Texas Department of Insurance (RV-57).
Pitched Roof
A great alternative for north-facing roofs when you need to improve exposure to the sun.
Tile Roof
Our proprietary designed flashing, integrates seamlessly with the tile roof structure, making the installation impervious to water.
Solatube Attic Fan Accessories
Want more out of your venting system? Solar Star Ventilation Fan add-ons maximize performance to ensure every inch of your attic is properly vented. More power to you.
Add the Thermal Switch – Temperature Controlled Attic Fans
Maximize motor performance by adding Temperature Controlled Thermal Switch to any attic fan model. Using a thermal switch, the fan will turn off when it gets cold and turn itself back on when the temperature gets hot in your attic.  The thermal switch activates when temperatures reach approximately 85° F (29° C) and deactivates when temperatures drop below 65° F (18° C). Can be installed on all attic fan models.
RM 1500 Add-On Panel – For boosting performance
When shadows limit sun exposure and minimize the performance of your Solar Star Ventilation Fan, supplement its operation with the RM 1500 Add-on Panel to ensure continuous operation throughout the day.
Discover the ultimate cooling solution for your home
Ready to get started?
Schedule a Consultation or Installation.
Schedule Today